Triple Zero Roulette
Yes triple zero roulette exists so be sure to see this article on how it came about and how popular it is in Las Vegas casinos.
History of Triple Zero Roulette
Starting around the Fall of 2016 a few Las Vegas casinos introduced triple zero roulette. Research shows that the game was initially launched at Planet Hollywood and New York New York.
Almost all the famous Las Vegas casinos now have the triple zero games. The Sands, MGM Grand, Venetian and many many more.
Why Offer Roulette in Triple Zero
If you understand the odds of roulette at all, you can immediately see why the game was introduced. The house edge on the double zero game is 5.26% and sis at 7.69 on triple zero. It's obvious any variation of a game at a Vegas casino that provides a higher edge is obviously going to be acceptable to the gaming management division.
Although it did take a few years to be completely accepted, once the other casinos realized that the popularity of the games could be maintained, they were also interested in giving some floor space to triple zero tables.
Why is Triple Zero Popular
One way that the casino had a big hand in pushing the popularity of the game was by minimum table limits. If you wanted to play roulette at a $10 table and double zero tables were $20 minimums, but triple zero was $10, you might take a seat there instead.
It has often been said that roulette appeals to casual gamblers at times, so lower table limits clearly is more appealing to casual gamblers.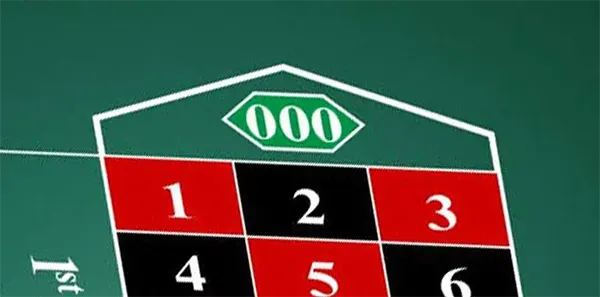 Is It Always Zeros
Actually no. You will see that some casinos may replace the 000 with their brand logo or other identifying image for the casino. This does not change the odds or house edge. The house edge is based on the number of spots on the wheel.
Should You Play Triple Zero Roulette
If you are walking by a triple zero table at a Vegas casino and you have a 10 or 20 dollar chip you want to bet on black, you may decide to play it on a triple zero table.
Overall, we suggest you look at the odds we mentioned above at the beginning of the article. Consider the single zero roulette has a house edge of 2.7%, double zero is 5.26% and triple zero at 7.69%. That means you have a better overall chance of winning when playing American roulette, and and even slightly better chance when playing European roulette. Many online casinos do offer both of those choices commonly. Some casinos may set the table limit slightly higher on their European versions but many do not.
Triple Zero Roulette Conclusion
We personally have not had much time playing triple zero version of roulette. While we very much enjoy an exciting session at the roulette tables the appeal of this version is not very high with us. We like the lower house edge at the double zero version. In fact when we play online we play the European single version more frequently, but have also had good luck with the American double zero games at some casinos.
We have not seen many online casinos with very much interest in offering the triple zero games, Only time will determine if they do in the future, Currently you can find the single zero and double zero variations at the casino listed below.
Ducky Luck

500% up to $2500 on Slots
US Accepted
Mobile Available
Progressive Jackpots
Live Dealer Games
18+ Terms and Conditions Apply
See casino site for more information. Please gamble responsibly. 18+ begambleaware.org.