Roulette Rules
Although not very complicated once you take a closer look, the roulette rules are fairly easy to understand which leads to betting winning.
Basics for the Game of Roulette Rules
Welcome to the world of Roulette! Of all the table games that are available to play at land based and online casinos, Roulette is the simplest to understand and play. No confusing rules or odd combinations that can be so difficult to keep track of that it takes all the fun out of playing the game! Roulette has a very simple set of rules to begin with, and once you understand these you can thoroughly enjoy your time spent playing the big spinning wheel.
The Tale of Two Versions
Roulette has two versions that you can choose to play European and American. The only difference between these two versions is the European Roulette Wheel has a range of numbers beginning with 0 and reaching to 36. The American version has the same set of numbers but has an added number of 00 on the wheel. Make sure to know which version you are playing, and understand that the European Roulette Wheel is more player friendly, giving you better odds of winning than the American version.
Slight Chances in French Roulette Rules
In this particular article we will not go in to the differences in French roulette. We will however details those differences in a separate article covering the rules and differences of French roulette.
Betting System:
There are two basic set of rules with betting on the Roulette wheel, these are labeled the outside bets and the inside bets. The "inside bets" are the "number" bets, where the player will choose which number they wish to bet on in hopes that the Roulette wheel ball will land on this number. The odds of winning are harder with these "inside" bets, but the payoff is greater.
The "outside bets" are when the players chooses which color the Roulette ball will land on, "red or black" or if the number will be an "odd or even" number. Much easier to pick a winner on these "outside" bets giving the player a 50% chance on each and every bet, but the payoff is much smaller.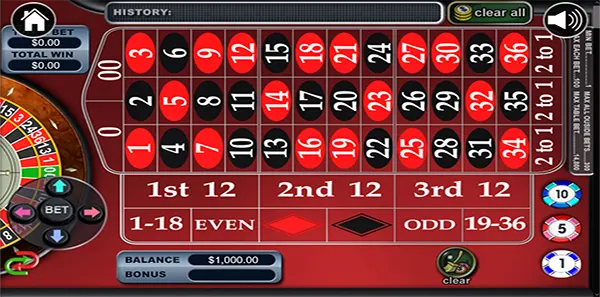 Inside Bets:
The inside bets, or numbered bets are labeled as follows.
Choosing two numbers that are side by side on the Roulette wheel. Placing a chip on the line that separates the two numbers is how you make this bet. You win if either number comes up. Wins are 17 – 1 payoff.
Betting on one certain number. Place a chip on the number you believe the roulette ball will land on. This bet has a 35 – 1 payoff.
Betting on 6 numbers that are in adjacent lines are the purpose of this bet. Placing a chip on the outside line of the two adjacent rows will make you a winner if any of the 6 numbers come up. Payoff 6 to 1.
A four number pick, you choose this bet by picking 4 numbers that are all intersecting each other and placing your chip in the middle of these numbers. You win if any of the 4 numbers come up the winner. Payoff 8 to 1.
Choosing an entire row of numbers to bet on in hopes that one will be landed on by the ball. Payoff is 11 to 1.
Outside Bets:
Often players like choosing outside bets more since they have better odds.
Both of these bets have a payoff of 1 to 1 odds and is a simple 50% bet. You choose whether the number that will win is either going to be black or red.
Both of these bets have a payoff ratio of 1 to 1 odds and you choose either the "even" box or "odd" box on the table to make this bet.
Choosing whether the ball will land on any number between 1 – 18 is a low bet, and a high bet is any number between 19 – 36. Payout ratio is 1 to 1 on both of these bets.
The above are your basic Roulette rules, and as you can see they are simple and quickly understood. So the next time you are at your favorite online casino click on that Roulette game and give the big wheel a spin with some confidence!
Roulette Tables are Always Active
Visit your favorite casino and any time you hit the gaming floor you can always tell where the roulette tables are. There will always be a lot of activity and excitement at the tables.
Research also shows us that one of the reasons roulette is popular at many casinos is that even a novice player can quickly learn how to play the game. In fact even without a full understanding of the game, a player can easily sit down at a roulette table and quickly place bets on their favorite number and win without much knowledge of the game.
Better Understanding Leads to More Wins
Obviously, the more a player has a complete understanding of the roulette rules the better chance they have of winning big at the roulette tables. And don't forget that roulette will be played in many languages and the rules will not change, with the exceptions in French roulette variations.
Roaring 21

400% up to $4000 on Slots
US Accepted
Mobile Available
Progressive Jackpots
Live Dealer Games
18+ Terms and Conditions Apply
See casino site for more information. Please gamble responsibly. 18+ begambleaware.org.